Biocompatibility generally refers to the compatibility between the material and the host, including histocompatibility and blood compatibility. Biocompatibility does not cause adverse reactions in tissues, blood, etc.
Good biocompatibility is a prerequisite for safe and effective clinical application of medical devices. Biological evaluation of medical devices to determine the risk level of potential toxicity and adverse biological reactions caused by contacting human body is the basis of benefit-risk evaluation of medical devices as a whole. Biocompatibility test is an important part of biological evaluation and provides a solid guarantee for biological evaluation.
Biocompatibility Testing
In vitro cytotoxicity test
Skin sensitization test
Irritation or intracutaneous reactivity test
Acute systemic toxicity, subacute toxicity, subchronic toxicity, chronic toxicity test
Genotoxicity test
Hemocompatibility test
Implantation effects test
Material mediated pyrogenicity
Basis of Testing Method
| | |
| --- | --- |
| Cytotoxicity | ISO 10993-5, GB/T 16886.5, ISO 7405, YY 0127.9, GB/T 14233.2, GB/T 16175 |
| Skin sensitization | ISO 10993-10, GB/T 16886.10, GB/T 14233.2, GB/T 16175 |
| Irritation or intracutaneous reactivity | ISO 10993-10, GB/T 16886.10, USP 88, GB/T 14233.2, GB/T 16175 |
| Material mediated pyrogenicity | GB/T 14233.2, Chinese Pharmacopoeia |
Service Process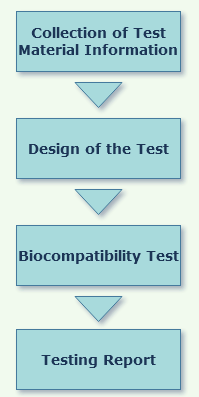 Our Advantages
Whole Industry Chain Services|Provide full industry chain technical services, including R&D support, safety evaluation and testing, registration, clinical, quality management system, etc.
Professional Technical Team | A team of experts in the fields of medical device regulations, registration, medicine, toxicology, statistics, biological evaluation, chemical analysis, microorganisms, etc., with comprehensive technical service capabilities
Professional Laboratory|Own several professional laboratories, including chemical analysis lab, materials lab, microorganisms lab, environment lab, efficacy evaluation lab, animal safety evaluation lab, etc.
Rich Industry Experience|Successful cases on safety assessment, registration and clinical services in active, non- active and IVD; Rich experience in implantable degradable products, medical beauty products, oral materials, cavity stents, assisted reproductive products and orthopedic ophthalmology field.
If you have any needs or questions, please contact us at test@cirs-group.com.