The KS certification is a voluntary certification system that conducts strict audit on companies that can continuously and stably produce products above the Korean Industrial Standards (KS) level. The KS certification mark can be affixed when products passed the strict audit. The system promotes the simplification and transparency of transactions and processes through the promotion of standardized products and services, which not only protects consumer rights and public safety, but also eliminates the need for quality confirmation and other procedures when countries, enterprises and public organizations purchase products, saving money and time.
Certification mark
According to the provisions of the Korean Industrial Standardization Law, KS certification is divided into product certification and service certification. All products or services selected as KS certification objects need to go through factory inspection, product inspection, or service inspection according to the corresponding KS standards. After passing the inspections, a KS certificate can be issued. CIRS currently provides KS product certification, the following content is only for reference during product certification.
The KS mark certification can only be obtained for product varieties that are designated by the Korea Institute of Technical Standards and are deemed necessary for the popularization and promotion of national standards. As of 2008, there are more than 800 kinds of products designated with the KS mark, and more than 6,000 factories have obtained more than 12,000 KS certifications. The factory audit standard adopted in the KS mark certification process is called "KS certification audit standard". The audit standard specifies the specific requirements of each item in detail. Therefore, it is recommended that enterprises purchase the audit standard, fully understand the requirements of the audit standard, and prepare according to its content, which can effectively promote the certification business.
KS certified product preferential system
Priority is given to purchasing KS-certified products by the Korean state, local governments, government investment agencies, and public organizations when purchasing products (Article 25 of the Korean Industrial Standardization Act)

Part or all of the content of certification, testing, and formal licensing that can be exempted from safety certification (Article 26 of the Industrial Standardization Law)

Preferential bidding contract in international bidding for countries (Article 23 of the National Contract Law Enforcement Decree)

Quality inspection of building materials can be omitted (Article 91 of the Enforcement Decree of the Construction Technology Promotion Act)
KS certification advantages

Enhance the competitiveness of certified enterprises

Protect consumer rights and public safety

Promote facilitation and transparency of transaction supply

A basis for purchasing the product
Preparations for the applicant company
KS certification is a certification body that will evaluate whether the company promotes internal standardization activities and quality management activities in order to continuously establish a quality system and continue to produce products that exceed the requirements of the Korean industrial standard. Therefore, the applicant company must be operated and managed for more than 3 months.
Step 1. Determine whether the product to be applied for is a KS certification object

Frist of all, confirm whether the product to be applied for is designated as a KS certified product, and whether KS standards and certification audit standards have been formulated

* Korea National Standard Certification Comprehensive Information System (standard.go.kr)

Step 2. Confirm factory audit review items

KS Q 8001 Appendix B Factory Audit Report Inspection Items and Evaluation Criteria

Step 3. Introduce internal company standardization and quality management regulations

Corresponding to KS standards, certification audit standards, and internal standardization and quality management activities required in the factory audit report

Step 4. The person in charge of quality management participates in regular training

Ensure that the person in charge of quality management meets the qualification requirements and participates in regular training (training of quality management leaders, training of management cadres)

Step 5. Confirm production equipment and testing equipment

Production equipment, testing equipment and related company standard documents required for product production

Step 6. Operation and management records of more than 3 months

Equipped with equipment and manpower according to the audit standard, it will operate normally and produce for more than 3 months

Step 7. Apply for KS certification

Submit an application for certification to a certification body
Product Certification Process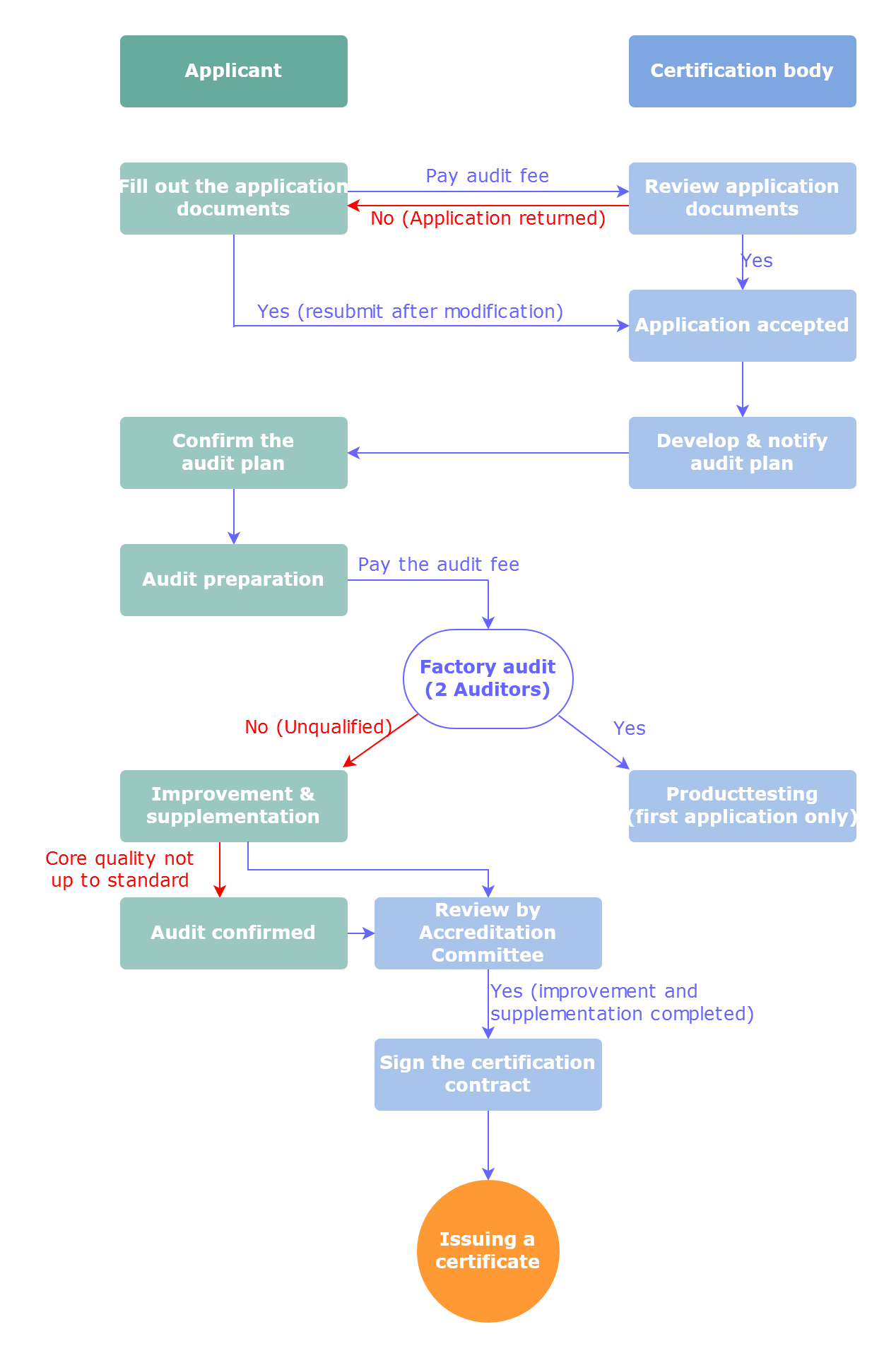 Application information
(1) When applying for certification:
KS product certification application form (Korean/English application form provided by foreign certified companies)

Certification application fee remittance certificate

Manufacturing, inspection equipment catalog

Raw material management catalog

A copy of the business license

Factory Registration Certificate

Copy of ISO certification (for companies that have obtained ISO certification)
(2) During factory audit:
1. Company Profile (2 copies each)
Company history, company profile, company management documents catalogue/QC flow chart, copy of business license and factory registration certificate;

The original qualification certificate of the person in charge of quality management and the in-service certificate;

Status of QM progress (QM activities, internal audits, proposals, training, customer complaints, 5S, environmental protection activities, safety management, etc.);
2. Factory overview, inventory, production and sales, production/inspection equipment conditions;
3. Company management documents/relevant Korean Industrial Standards (KS) and certification audit standards (latest revision)/reference and application standards, etc.
Certification fee and cycle
(1) Application fee: KRW 500,000 for one product (KRW 330,000 for each additional product)
(2) Factory audit fee: KRW 290,000/person/day (2 auditors, 2 days for 1 product, 3 days for 2~3 products, 4 days for more than 4 products)
(3) Travel expenses for reviewers: in accordance with the travel expenses regulations for level 5 civil servants in Korea (when reviewing foreign companies, air tickets and transportation costs are borne by the companies)
(4) Product testing fee: charged according to the fee standard of the relevant product certification and testing agency
(5) Cycle: 40 working days (excluding product testing cycle)
Factory audit
The factory audit is mainly conducted according to the product KS standard, certification audit standard and the evaluation items of the factory audit report in Appendix B of KS Q 8001. A total of 33 items are reviewed, and the factory audit result is determined as qualified when all of them are qualified.

The 33 evaluation projects are divided into general projects and core projects, as shown in the following table:
| | |
| --- | --- |
| Review project | Number of specific projects (the number of core projects in parentheses) |
| 1. Quality management | 5(1) |
| 2. Raw material management | 6(1) |
| 3. Process and production equipment management | 8(1) |
| 4. Product management | 6(2) |
| 5. Inspection and testing equipment management | 3(1) |
| 6. Consumer Protection and Environmental, Resource Management | 5(1) |
| Total | 33(7) |
Product audit (Product Testing)
During the factory audit, samples are taken to test whether the products meet the Korean industrial standards. Product audit is limited to the first application for certification, regular audits (3 years or 1 year) and factory relocation audits will not conduct product audits again. If the test cycle of test items is too long, or the test items have passed the certification required by other Korean regulations, if a recognized test report (issued within 2 years) that is higher than the KS standard requirements can be provided, the relevant test items can be exempted.
Certificate FAQ
(※The following content is for reference only for companies applying for KS certification for the first time)
Q1. Is KS certification compulsory?
A: KS certification is voluntary and not mandatory; however, enterprises can enjoy various discounts after obtaining KS certification. For example, when participating in the Korean government bidding and procurement, they can become a bonus item for the enterprise, some products enjoy preferential purchase discounts, and some test exemptions etc.; In addition, companies can use the KS logo when publicizing and selling products to enhance their competitiveness.
Q2. Which products can apply for KS certification?
A: KS certification includes product certification and service certification. Up to now, there are more than 800 types of products, which can be searched and inquired through the "national standard" of www.standard.go.kr; not all products with KS standards can apply for KS certification, only products designated by the administrative agency in charge of product standards are KS certified products.
Q3. Can non-Korean companies apply for KS certification?
A: Foreign companies outside Korea can apply for KS certification just like Korean companies. The application process and application method are the same as Korean companies, and there is no difference in treatment; it is just that foreign companies need to consider the round-trip time of auditors for factory audits due to geographical location, it may take longer than the audit time for Korean companies. Foreign companies can enjoy the same preferential policies as Korean companies after they have obtained KS certification.
Q4. How long does it take to apply for KS certification?
A: The KS certification cycle can be roughly divided into three parts: application materials review, factory audit, and product testing.Generally, it takes about 40 working days from the date of application materials acceptance to the end of the factory audit, and the product testing cycle ranges from 2 weeks to 1 year. Except that there is a correction item in the factory audit and correction cycle. In addition, the time when the company receives consultation and prepares documents is excluded. Example: When applying for KS certification of KS F4009 (ready-mixed concrete), it takes about 40 days for application materials and factory audit + about 90 days for product testing = about 130 days.
Q5. How much does KS certification cost?
A: The KS certification fee consists of certification fees (application fee + factory audit fee + travel fee) and product testing fee; product testing fee will vary according to different testing institutions. Application fee: KRW 500,000 for one project, and KRW 250,000 for each additional project. Factory audit fee: Number of audit days x 2 persons x 260,000 KRW/person/day, the number of audit days is 2 days for 1 project, 2 days for 2~3 projects, 4 projects above 3 days. Travel expenses: including meals, daily expenses, accommodation, transportation, etc., according to the travel expenses of South Korean civil servants. Product testing fee: The fee specified by the recognized testing agency in Korea ※The above fees do not include tax; the fees for companies receiving external consultation and forecasting products are excluded.
Q6. What is a KS quality management officer?
A: A KS quality management officer is a person who holds the qualification requirements stipulated by the Korean Industrial Standardization Act and is responsible for promoting the standardization activities and quality management activities related to the KS certification of the company. The Korean Industrial Standardization Law and the KS certification audit standard clearly stipulate that KS certified enterprises need to establish the position of quality management person who can effectively promote quality management activities.
Q7. What are the requirements for the person in charge of quality management?
A: Persons who hold the qualification certificates of quality management engineers, quality management technicians and industrial technicians stipulated in the National Technical Qualification Law of South Korea; Or those who have participated in the training course for quality management leaders conducted by the Korea Standards Association and passed the examination.
Q8. Do quality management leaders who hold relevant qualification certificates need to attend training courses?
A: The person in charge of quality management who holds the relevant qualification certificate needs to participate in the regular training organized by the Korea Standards Association, once every 3 years
Q9. Do I need to have a 3-month business management record before submitting a KS application?
A: Yes. The applicant enterprise submits the KS application after 3 months of normal production after meeting the system requirements stipulated in the Korean Industrial Standardization Law and the certification audit standard. During the audit, checking the records of the enterprise for the first three months to assess whether the enterprise has the ability to continuously produce KS standard products.
Q10. How many samples do I need to prepare for product testing?
A: It varies from product to product, and it is necessary to refer to the product KS certification audit standard. The standard clearly stipulates the sampling method and sampling quantity. If the factory audit fails to prepare enough samples to prevent product testing, the audit will be stopped and certification will not be granted.
Application information



Download Application Information Format

KS certification mark
Service advantage
CIRS Group provides certification consulting services including KC, KS and JIS, with technical support provided by the personnel of the former Korean KS and JIS certification agencies. We have rich experience in KC, KS and JIS certification of complex products, and can provide you full tracking service from material preparation to certification acquisition.
Our Regulatory Services
India BIS certification

India ISI certification

Indian CRS registration

Japan JIS certification

Korea KC certification

REACH regulation
If you have any needs or questions, please contact us at test@cirs-group.com.