The safety management and legislation of food contact materials of European Union marked its opening by the directive 76/893/EEC in 1976. Up to now, the regulation has become far more complex that covering many materials. The chart below embodies the regulation framework of EU food contact materials comprehensively.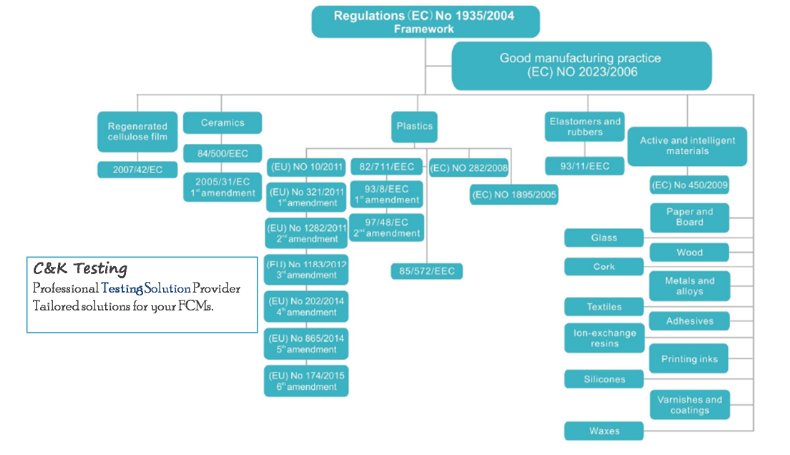 However, many countries also establish their own laws and regulations besides the EU legislation. It is important for operators to learn about specific requirements on the nationwide basis. Here is a simple overview of other FCMs regulations.
Germany
In September 2005, Germany reissued "LFGB (German Food, Commodities and Feed Law)". This document replaces "LMBG (German Food & Commodities Law)" which had been implemented for 30 years. In recent years it has been revised to fulfill European standards. So all the food and food-related commodities ready for sale on Germany market must not only meet the basic requirements of European standards, but also those of LFGB.
For instance:
Sensory test
Overall migration
Soluble heavy metals
Migration of primary aromatic amines
Specific migration of phthalates
France
In July 1992, France issued "Décret no92-631" for the implementation of Regulation (EC) No 1935/2004. The directive is updated as Décret no2007-766 in 2007. Like Germany, France also has a relatively complete laws and regulations system. All the food and food-related commodities ready for sale on France market must not only meet the basic requirements of European standards, but also those of Décret no2007-766.
Italy
On 23 August 1982, Italy issued law DPR 777 in order to implement Directive 76/893/EEC. DPR 777 also specifies the scope of use, punishment against violations and penalties, etc. in addition to the regulations on the safety of food contact materials which are consistent with the basic principle of the EU framework directive.
To implement the framework regulation, a series of MINISTERIAL DECREE (D.M) are derived, like D.M.04/04/1985 on ceramics, D.M. 21/03/1973 on plastics, rubber, regenerated cellulose film, paper and board, glass and stainless steel products.
UK
Different from Germany and France, the UK will not develop special technical regulations about food contact material safety at the level of the country, but rather transfer and implement the EU regulations through release of the Statutory Instrument (SI).
Current SI files include: SI 2011 No. 231 (plastic materials), SI 2006 No. 1179 (ceramics), SI 1995 No. 1012 (nitrosamines materials in pacifiers). SI 2010 No. 2225 released in 2010 is consistent with (EC) No 1935/2004 Framework Regulation and (EC) No 2023/2006 Good Manufacturing Practice Regulation covering Regulation (EC) No 450/2009 on active and intelligent materials and articles and Directive 2007/42/EC on regenerated cellulose membrane.
C&K Testing can provide professional testing for food contact materials as per standards of different countries and regions. Besides, we can render you one-stop solutions integrating consulting, testing and certification. Please feel free to contact test@cirs-group.com or if any question.