The full name of Indian ISI certification is Indian Standards Institution, which is the most stringent type of BIS certification, including factory audits and product testing. ISI certification has a mandatory product catalogue covering building materials, chemicals, household appliances, medical equipment, vehicle parts, food, etc. Products listed in the ISI mandatory catalogue must obtain a license granted by the Bureau of Indian Standards (BIS) before they can be placed on the Indian market. The initial ISI certification is valid for 1 year, and the renewal can be extended to 1-5 years.
India ISI certification mark
The ISI mark consists of the license number "CM/L-XXXXXXXXX" at the bottom of the ISI mark and the Indian standard number "IS: XXXX" at the top. After successfully granting the BIS certificate, the manufacturer can use the ISI logo on the product packaging.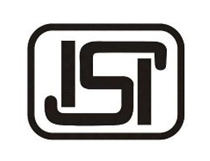 Indian ISI certification requirements
Manufacturers outside India need to have a liaison office or branch in India, and the liaison office or branch should abide by all BIS laws, regulations and rules; or, overseas manufacturers designate an authorized agent in India (AIR, Authorised Indian Representative) , the agent signs an agreement with the manufacturer according to BIS regulations, and declares compliance with relevant laws and regulations on behalf of the manufacturer and is responsible for it.
Ensuring that its products comply with the applicable Indian Standard Specifications (ISS);
The factory shall have all manufacturing machinery and testing facilities;
The factory laboratory needs to have the testing equipment involved in the Indian Standard (ISS) and relevant quality testing personnel;
The manufacturer shall accept the terms and conditions of the BIS license.
Indian ISI certification process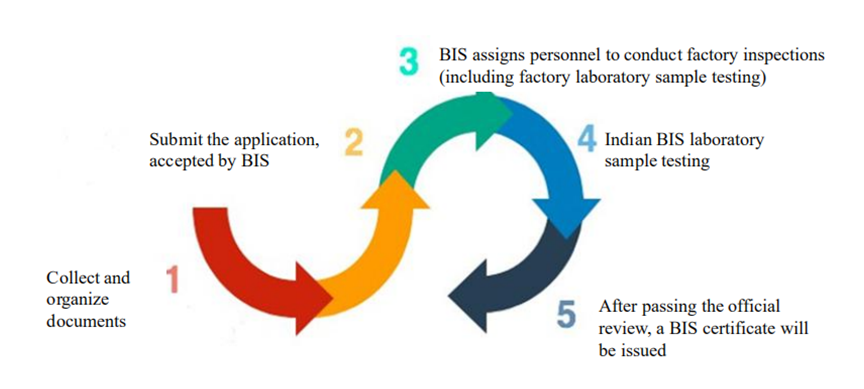 Submit application
Organize and assemble all necessary documents
Submit the application form together with the required documents to the BIS and submit a backup copy to the FMCD department
The BIS Authority will verify the application
Applicants need to pay an application fee
BIS preliminary review
BIS will communicate with applicants via email if required documents, equipment are missing or incomplete
If the application satisfies the conditions in all respects, the BIS will record it and assign a confirmation number to the applicant
Audit/Inspection
BIS officials will schedule an audit of the factory on a mutually agreed date
Applicants are required to pay inspection/audit fees
BIS officers will audit the manufacturing process, testing facilities, and test products in the factory's in-house laboratory
BIS officers will collect the samples and forward them to the BIS laboratory for testing
Test sample
The collected samples are sent to the BIS laboratory
Test report will be sent to BIS Authority
The test fee will be paid by the applicant
Issuance of documents
Factory audit and product testing are required to meet the requirements
Applicants should pay certificate fee, minimum marking fee, and bank deposit
The applicant will be granted a license
Documents required for Indian ISI certification
Application Form
India AIR Power of Attorney
Business license
Process flow chart
Quality control system (such as quality manual, quality control plan, testing arrangement, etc.)
Other certification documents of products or systems
Detailed certification information of components or raw materials used in product manufacture
Production and inspection equipment list
Product design drawing
Qualification certificates and work experiences of Laboratory supervisor, technical and QC staff
Test report
Schematic diagram of plant layout, etc
Indian ISI Certification cycle and fees
Total certification period: 60-180 days
CIRS Service fee: Depends on specific products
BIS official fees (application fee, certificate fee, prepaid minimum product marking fee, etc.): about 1300 US dollars
Product testing fee: subject to BIS laboratory quotation
Factory audit fee: The official auditor's board and lodging, air tickets, visas and travel subsidies all need to be paid by the applicant
Bank deposit: 10,000 US dollars, which is refundable after revocation of the BIS license
Indian ISI Compulsory Certification Product Category
| | |
| --- | --- |
| Cement (any kind of cement manufactured or sold in India) | Toys |
| household appliances | Flat Transparent Sheet Glass |
| Batteries | Safety Glass |
| Food and related products | Woven Sacks |
| Oil Pressure Stoves | Butterfly Valves |
| Automobile Accessories | Reflectors for Bicycles |
| Cylinder, Valves and Regulator | Paper |
| Medical Equipment | Cattle Feeds |
| Steel and Iron Products | Automobile Wheel Rim Component |
| Electrical Motors and Capacitors | Foot Wear |
| Chemicals, Fertilizers, Polymers & Textiles | Press Tool-Punches |
| Kitchen Appliances | Helmet for riders of Two Wheeler Motor Vehicles |
| Domestic Water Heaters for use with LPG | Refrigerating Appliances |
| Air Conditioner and its related Parts, Hermetic Compressor and Temperature Sensing Controls | Centrifugally cast (Spun) iron pipes |
| Plugs and Socket-Outlets and Alternating Current Direct Connected Static Prepayment Meters for Active Energy | Flux Cored (Tubular) Electrodes |
| Domestic Gas Stoves for use with Liquefied Petroleum Gases | Sewing Machine |
| Transparent Float Glass | PVC Pipes and Fittings for Potable Water Supply |
| Domestic Pressure Cooker | PVC Pipes and Fittings in Agriculture and in Suction and Delivery Lines of Agricultural Pumps and Rain Water Systems |
| Cables | PVC Pipes and Fittings for Drainage and Sewarage System |
| Rubber Hose for Liquefied Petroleum Gas (LPG) | Water Treatment System |
| Aluminium Foil | |
License Renewal Requirements
The initial validity period of the license is one year. Renewable for one to five years
Submit application documents and production report of certified products in the past 1 year
Needn't sample testing and factory audit, just submit application documents and required fees to BIS
The renewal fee is calculated based on the export value of the past 1 year, and the cycle is about 1 month
Expanded License Scope Requirements
Need to send samples to BIS laboratory for testing
You can choose any BIS accredited laboratory, both independent and official laboratories
After the test report is completed, the application documents need to be submitted to BIS
The completion period is about one month after the test report is issued
Our Services
Authorised Indian Representative(AIR)
Indian ISI certification consulting and training
Indian ISI certificate application
Indian ISI certificate renewal
Indian ISI Certification FAQ
1. Is Indian ISI certification mandatory?
Products listed in the Indian ISI Compulsory Certification List have mandatory certification requirements, and products must obtain an ISI license before entering the Indian market. The products in the non-compulsory certification list adopt the principle of voluntary certification.
2. How long is the Indian ISI certification cycle?
The ISI certification cycle can be roughly divided into four parts: data preparation, factory audit, product testing, and official audit. Generally it takes about 90-180 days from the date of acceptance of the application materials to the end of the official audit. If there are major changes in the factory audit or changes in product testing, the time required may be extended.
3. How much does Indian ISI certification cost?
The Indian ISI certification fee consists of CIRS service fee, official BIS fee, product testing fee, factory audit fee and bank deposit; the number of factories, product types and models will also affect the total cost.
4. How long is the Indian ISI certification valid for?
The ISI license is initially valid for one year, renewable for one to five years in the following year.
5. Where can I view the list of India ISI compulsory registrations?
Enterprises can view the ISI compulsory registration list through the official website of BIS India, and the products included in the list are compulsory for registration.
The official website of Indian BIS is in Indian and English. If you need the Chinese version, please contact us at
test@cirs-group.com
.