On September 25, 2023, the National Health Commission released 85 national food safety standards and 3 amendment notices (NHC Announcement No. 6 of 2023), including 17 standards related to food contact materials, comprising 5 product standards (plastics, metals, rubber, composite materials, inks) and 12 method standards (migration general principles, method validation general principles, specific migration quantity test methods, etc.)."
This article will introduce GB 4806.7-2023 'National Food Safety Standard - Food Contact Plastic Materials and Products' (hereinafter referred to as the Plastic Standard'), which will officially take effect on September 6, 2024.
Comparing the 2023 edition with the 2016 edition, the main changes are summarized as follows:
Table 1: Key Revisions of GB 4806.7-2023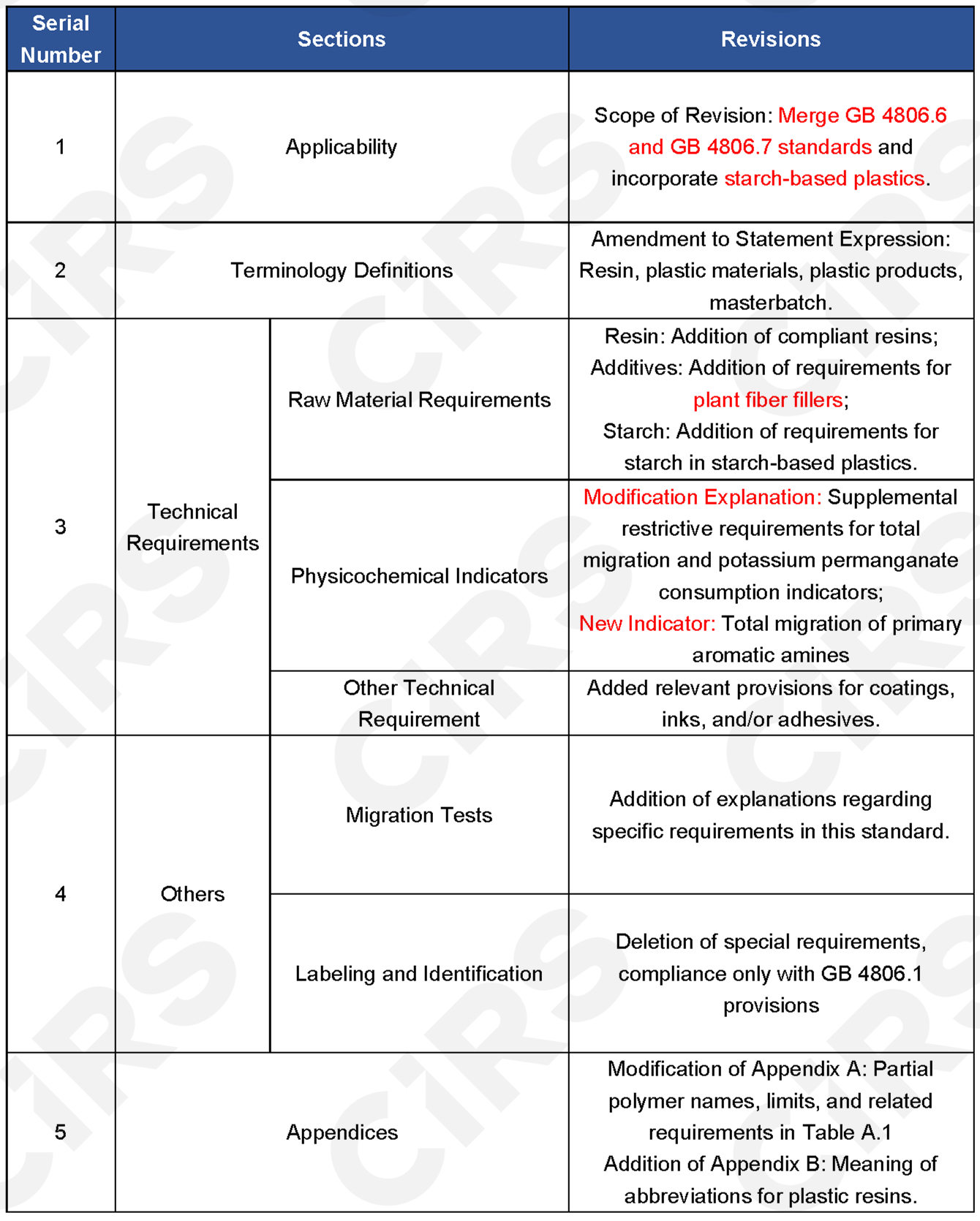 Key Points of Concern
As mentioned above, there are significant changes in the technical requirements between the old and new Plastic standards, mainly involving raw material requirements and physicochemical indicator requirements. A comparison of technical requirements between the old and new standards is shown in Table 2.
Table 2: Comparison of Technical Requirements between GB 4806.7 New and Old Standards*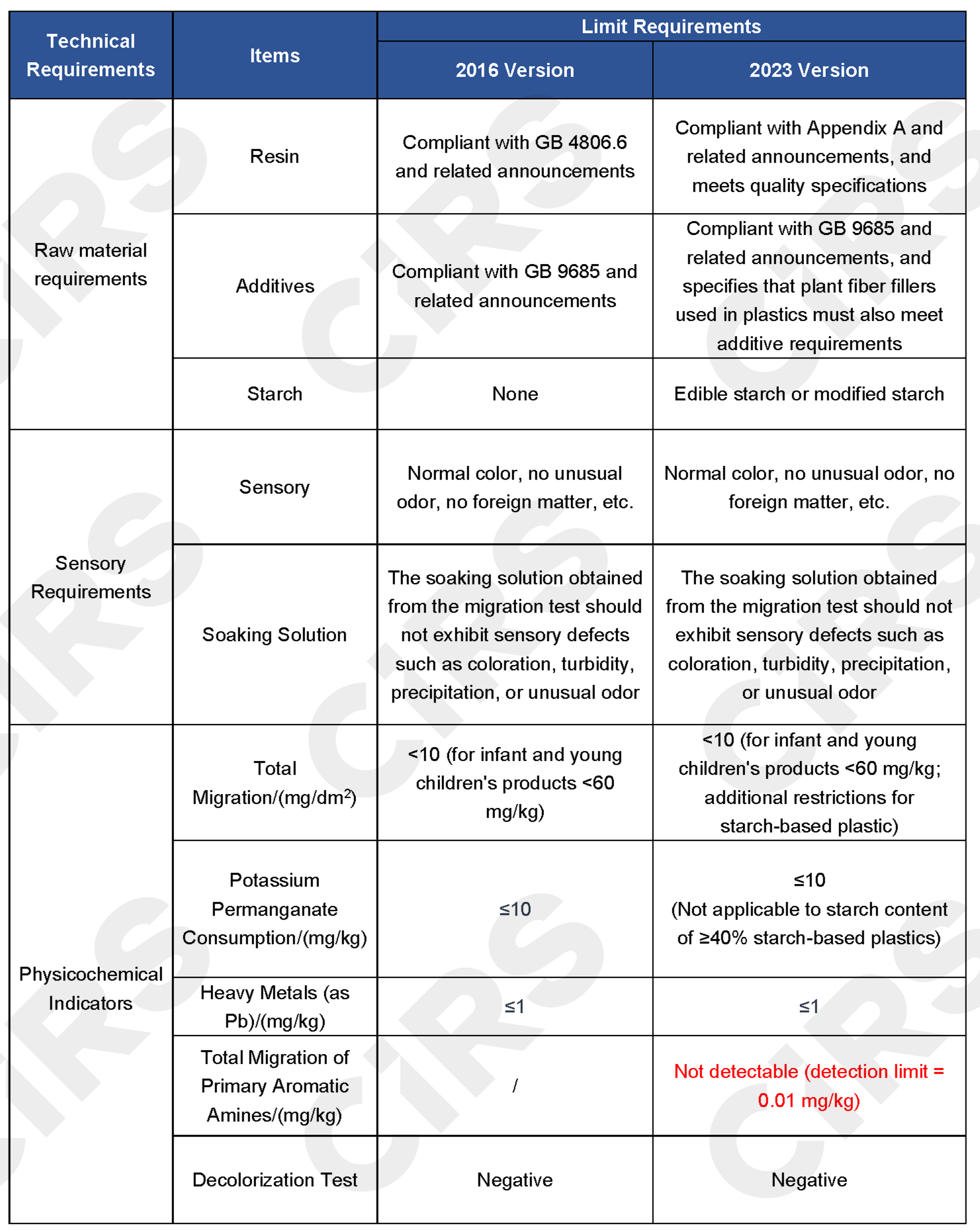 *The items listed in the table do not cover specific migration limits and other physicochemical indicators.
Warm Reminds
A: Pay attention to changes in scope of application and material attribution issues.
This revision combines two standards, GB 4806.6-2016 and GB 4806.7-2016, and includes starch-based plastic materials and products within the scope of GB 4806.7-2023, clarifying the attribution and regulatory requirements for starch-based plastics. In addition, according to the revised raw material requirements, for plant fiber-containing plastic products widely available in the market, production companies should ensure that the plant fiber fillers and additives they use comply with the provisions of GB 9685 and related announcements, indirectly addressing the attribution issue of plant fiber-containing plastic products.
B: Strengthen Compliance Management of Raw Materials
This revision makes significant changes to the resin list, adding authorized use resins and revising restrictive requirements for some resins in consideration of industry developments and updates in foreign regulations. These changes will impact product compliance requirements, and it is recommended that the industry pay close attention.
C: Note Changes in Physicochemical Indices
Considering the potential introduction of hazardous substances to human health in the plastic production process, new requirements for the total migration of primary aromatic amines have been added for plastic materials and products containing aromatic isocyanates and azo colorants that may generate aromatic amines. It is advisable for companies to minimize the use of such substances during the research and development phase. If alternative solutions are temporarily unavailable, compliance verification should be conducted promptly, and good information sharing within the supply chain should be ensured to assist downstream entities in conducting compliance assessments and management.
CIRS C&K Testing has the complete set of technical testing capabilities for the new version of the standard, including total migration of primary aromatic amines. If you need any assistance or have any questions, please get in touch with us via test@cirs-group.com.
Further Information