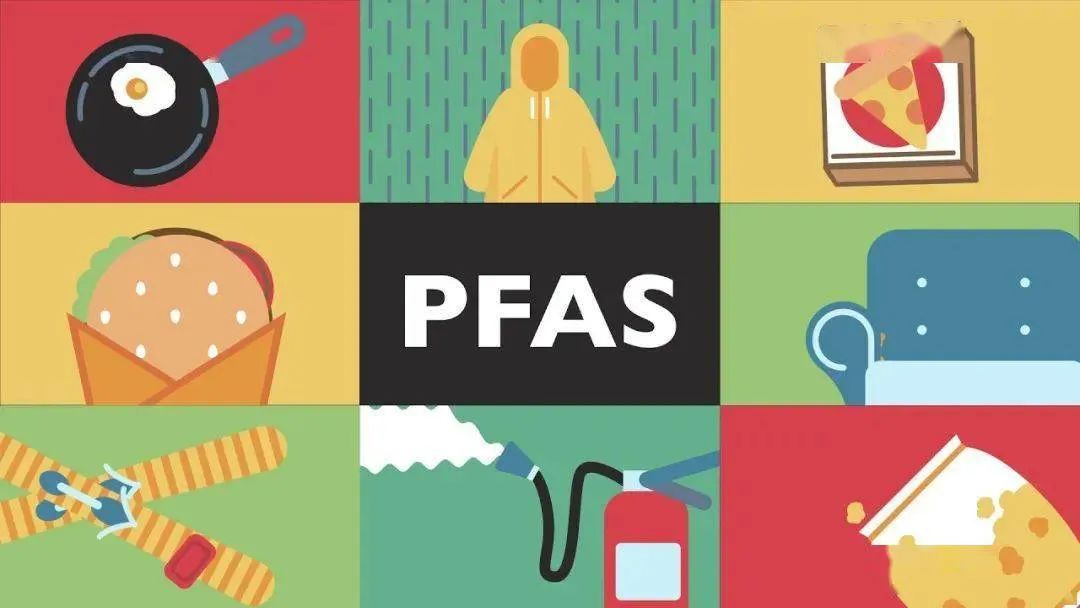 Per- and Polyfluoroalkyl Substances (PFAS) refer to substances that contain at least one perfluorinated methyl (CF3-) or methylene (-CF2-) carbon atom (without any H/CI/Br/I). According to existing data, there are over 10,000 substances that meet this definition.
【

Chemical Hazards

】
PFAS exhibit extremely high thermal stability and chemical stability, allowing them to withstand high temperature heating, light exposure, chemical reactions, microbial activity, and metabolic processes in higher vertebrates. They are among the most persistent organic pollutants discovered worldwide and have high bioaccumulation potential. Upon ingestion by organisms, they do not accumulate in adipose tissue but instead form bonds with proteins in the bloodstream and accumulate in tissues such as the liver, kidneys, and muscles, exhibiting significant bioaccumulation.
Both PFOA and PFOS can cause weight reduction and smaller body size in newborns. PFOA can disrupt endocrine function and is associated with carcinogenicity and thyroid diseases. In general, the longer the carbon chain of perfluorinated compounds, the more difficult their degradation and the greater their hazards. The production, market release, and use of PFAS also contribute to the pollution of drinking water and soil through total emission levels.
【

Common Applications

】
These substances are widely used in various products due to their oil resistance, water resistance, and low reactivity. They are utilized in products such as stain repellents, lubricants, non-stick coatings for cookware, textiles, cosmetics, paper, food packaging, optoelectronics, semiconductors, and firefighting foams. They have also been found in plastic toys, metal surface coatings, ski wax, dental floss, cosmetics, and drinking water.
【
EU Regulation on PFAS

】

The European Union's chemical sustainability strategy places PFAS control at the forefront and center of its vision for 2025. The European Commission has committed to gradually phasing out all PFAS, allowing their use only in cases where they are proven irreplaceable and crucial to society.

On February 7, 2023, the European Chemicals Agency (ECHA) published a proposal recommending the ban of nearly 10,000 PFAS substances, aiming to restrict the widespread use of "forever chemicals" PFAS. The proposal includes comprehensive control measures for fluoropolymers (such as PVDF) and other related products, causing significant impact on the fluorine industry and downstream consumer sectors.

The EU's regulation on Persistent Organic Pollutants (POPs) and Annex XVII of the REACH regulation have already imposed controls on perfluorooctanoic acid (PFOA) and its salts and related substances, perfluorooctanesulfonic acid (PFOS) and its derivatives, C9-C14 perfluorocarboxylic acids (C9-C14PFCA) and their salts and related substances. Perfluorohexanoic acid (PFHxA) and its salts and related substances, perfluorohexanesulfonic acid (PFHxS) and its salts and related substances, C9-C21 perfluorocarboxylic acids (C9-C21PFCA) and their salts and related compounds are also included in the REACH and POPs regulations.
Standards

Restricted Substances and Limit Values

Implementation Date/Status

REACH Annex XVII

Sum of C9-C14 PFCA and its salts <0.025 mg/kg
Sum of related substances of C9-C14 PFCA <0.26 mg/kg

February 25, 2023.
Implemented

PFHxS and its salts sum ≤0.025 mg/kg
Sum of related substances of PFHxS ≤1 mg/kg

Proposal

PFHxA and its salts sum ≤0.025 mg/kg
Sum of related substances of PFHxA ≤1 mg/kg

Proposal

All PFAS
Targeted analysis of individual PFAS content: ≤0.025 mg/kg
Sum of targeted analysis of PFAS content ≤0.25 mg/kg
Total fluorine content: ≤50 mg F/kg

Proposal

POPs

PFOA and its salts sum ≤0.025 mg/kg
Sum of related substances of PFOA ≤1 mg/kg

July 4, 2020.
Implemented

PFOS and its derivatives substances/mixtures: 10 mg/kg
Articles: ≤1000 mg/kg
Textiles/Leather: ≤l ug/m2

August 26, 2010.
Implemented

PFHxS and its salts sum ≤0.025 mg/kg
Sum of related substances of PFHxS ≤1 mg/kg

Proposal

Long-chain perfluorocarboxylic acids (LC-PFCAs) (C9-C21 PFCAs) and their salts and related compounds.

Risk assessment
Recently, the European Union has announced that a special enforcement action targeting PFCAS-related substances will be carried out between 2023 and 2024. For more details, please click here to view: [EU will Start Enforcing Restrictions on PFCAs and Related Substances
CIRS C&K Testing is an internationally recognized third-party testing institution and a wholly-owned subsidiary of CIRS Group, specializing in inspection and testing services. It is also recognized as a national high-tech enterprise. With a mission to "facilitate compliance of enterprise products and enhance the quality of healthy living," C&K Testing provides professional product testing services to help clients verify product information, quality, and safety, thereby enhancing brand competitiveness and delivering trust in healthy living.
CIRS C&K Testing holds the CMA (China Metrology Accreditation) qualification and is accredited by the China National Accreditation Service for Conformity Assessment (CNAS). The laboratory covers an area of over 7,000 square meters. It is equipped with a wide range of advanced testing instruments and equipment, including gas chromatography-mass spectrometry (GC-MS), gas chromatography (GC), high-performance liquid chromatography (HPLC), liquid chromatography-tandem quadrupole mass spectrometry (LC-MS-MS), ion chromatography (IC), infrared spectrometer (IR), energy dispersive X-ray fluorescence spectrometer (EDX), atomic absorption spectrophotometer (AAS), atomic fluorescence spectrophotometer (AFS), inductively coupled plasma optical emission spectrometer (ICP-OES), inductively coupled plasma mass spectrometer (ICP-MS), X-ray diffraction (XRD), multi-probe skin testing system (MPA580), facial image analysis instrument (VISIA), and ultraviolet sun simulator (SPF).
CIRS C&K Testing provides PFAS testing, risk assessment of hazardous substances, and other harmful chemical substance testing, offering one-stop testing solutions to help businesses address the challenges of PFAS.
If you need any assistance or have any question, please get in touch with us at test@cirs-group.com.